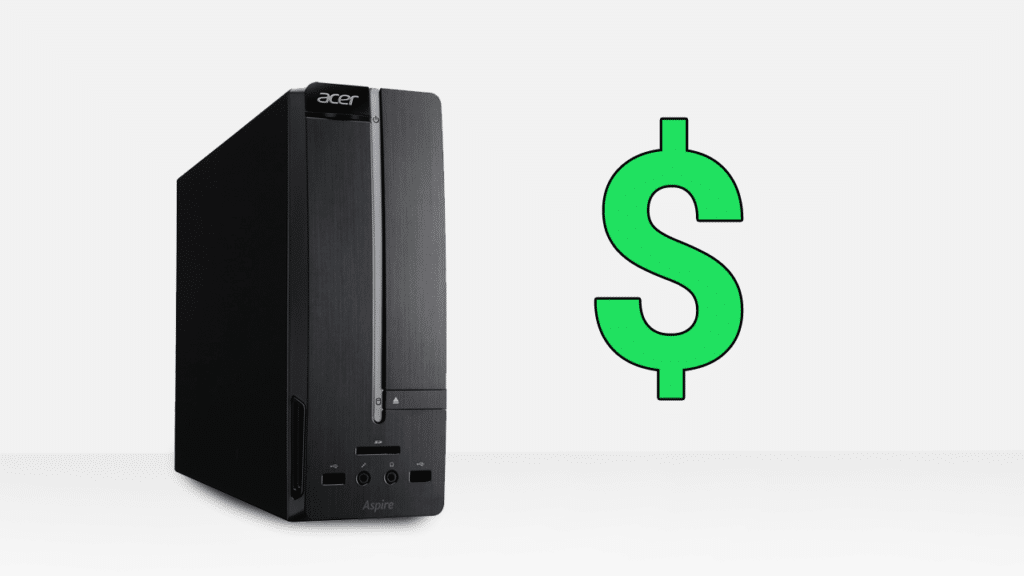 How Much Does a Computer Cost?
There are many types of computers out on the market to choose from – some can be cheap, while some can be more pricey. But how much does the average computer usually cost?
Desktop computers can cost anywhere from $300-$4,000 depending on how good it's inside components are. The average computer might go for around $400. For more advanced computers the price might be $1,000 or more.
All in all, the cost of a computer / PC truly depends on how much power you're needing from it. If you're going to be using the machine as a personal or business computer, then you will be fine going with an average computer in the lower price range. In the case that you are going to be doing intense tasks such as running servers, rendering, graphic design, gaming, etc, then you might want to get a more powerful machine in the higher price range.
To give you an idea as to how much computers can cost, I've gone ahead and researched 9 different machines and have compiled them into a list so that you can get a better overall understanding.
9 Computer Price Examples
| Category | Model | Price |
| --- | --- | --- |
| High-end | ASUS ROG Strix G15CK | $3,479 |
| High-end | HP Omen 30L | $3,299 |
| High-end | MSI P100X | $3,222 |
| Mid-range | Skytech Chronos | $2,500 |
| Mid-range | CyberPowerPC Gamer Supreme | $1,999 |
| Mid-range | HP Omen Obelisk | $1,200 |
| Average | Dell Inspiron Desktop 3880 | $680 |
| Average | Acer Aspire TC-895-UA92 Desktop | $529 |
| Average | Lenovo IdeaCentre 3 | $318 |
The computers in the average bracket will be fine at handling low-intensity tasks such as browsing the web, and all your other personal or business tasks. If you think you're going to need some extra fire-power, then it might be better to go for the mid-range or potentially the high-end range instead. It all depends on what you're going to be doing, so make sure to factor everything in.
The different types of computers
Now that you know roughly how much the average computer can cost, you may be wondering about the other specific types of computers, such as laptops, all-in-ones, gaming PCs, etc. So in this next section, I'll be going over all of the different types of computers, and their own average costs.
Laptops
Laptops are generally known to be more expensive than desktop computers, mainly for the fact that they are compact & portable, making the construction of them more expensive. That's the trade-off with laptops; you pay more for portability and ease of access.
Although you can find laptops at the same price of desktop computers, that's because the inside components are simply not as good. If you're looking for a laptop that performs the same as a desktop, then you may be looking at an extra $200-300.
The average price for a laptop is around $300-$500, although if you're looking for a laptop that has equivalent power to a desktop, you could be looking at the $600-1000 price range.
Gaming PCs
Gaming computers, also known simply as "Gaming PCs", are computers which are specifically designed for gaming purposes. Although they are specifically designed for gaming, they can still be used for any of your normal computer tasks, and will handle them far better than an average computer would. This is because gaming computers are constructed with the most high-end components, meaning that they are not just good for gaming, but also for all of your normal computer activities.
Because gaming desktops are built with better components, they tend to be more expensive. Prices for gaming PCs may range from $1000-$3500+ depending on how good it is. The average gaming PC might go for around $1200, but yet again it all depends on it's inside specifications.
Business computers
The good thing with business computers is that they generally don't cost too much. Unless you're going to be needing to do graphic design, rendering, or some other type of intense activity, you can simply go with a cheaper computer and it will get the job done well.
Generally speaking, the average price for a business computer is around $400. This is similar to where we have the Lenovo IdeaCentre 3 in our pricing list.
All-in-ones
All-in-one computers are just how they sound; all the components are in one, including the monitor that it's attached to. The benefit to having an all-in-one is that it takes up far less space than the average desktop.
All-in-ones can range from $400 all the way up to the $800 and above. The cost of how much one is really depends on its features such as if it has touchscreen, how large the screen is, etc.
Apple computers
The main difference between Apple computers and all of the formerly mentioned computers is that Apple runs on its own operating system, macOS, rather than the common Windows system. Both operating systems have their own benefits, although most people do prefer Windows.
In the case that you want to get an Apple computer or laptop, you should know that they do not come cheap. Prices for Apple desktops can range from $500-$3000 and above, it entirely depends on which model you get. As for the laptops, they can also range similarly from $500 all the way up to $2000+.
Pre-built vs custom built
If you're trying to save money on your computer, then you should definitely consider building it yourself. What I mean by that is ordering all of the individual components, and then constructing it from there on. By doing this, you will be able to cut out some of the cost that pre-built computers have. There are many tutorials online as well as helpful tools like PCPartPicker which help you to find pieces and build your own desktop.
Building your own computer can often save you money (sometimes hundreds of dollars), although if you aren't tech savvy or simply don't have the time to do so, then you might prefer to stick with getting a pre-built machine.
About the writer
Hi there, I'm Manning, and I'm the owner and founder of GamingSmart. I'm also an ex-professional player in multiple games, such as CS:GO and Overwatch, have countless hours in overall gaming play-time and have plenty of gaming & tech-related experience.
Feel free to check out all of the content here on our site, like our sens converters, eDPI calculators, and the various other tools & content that we provide!